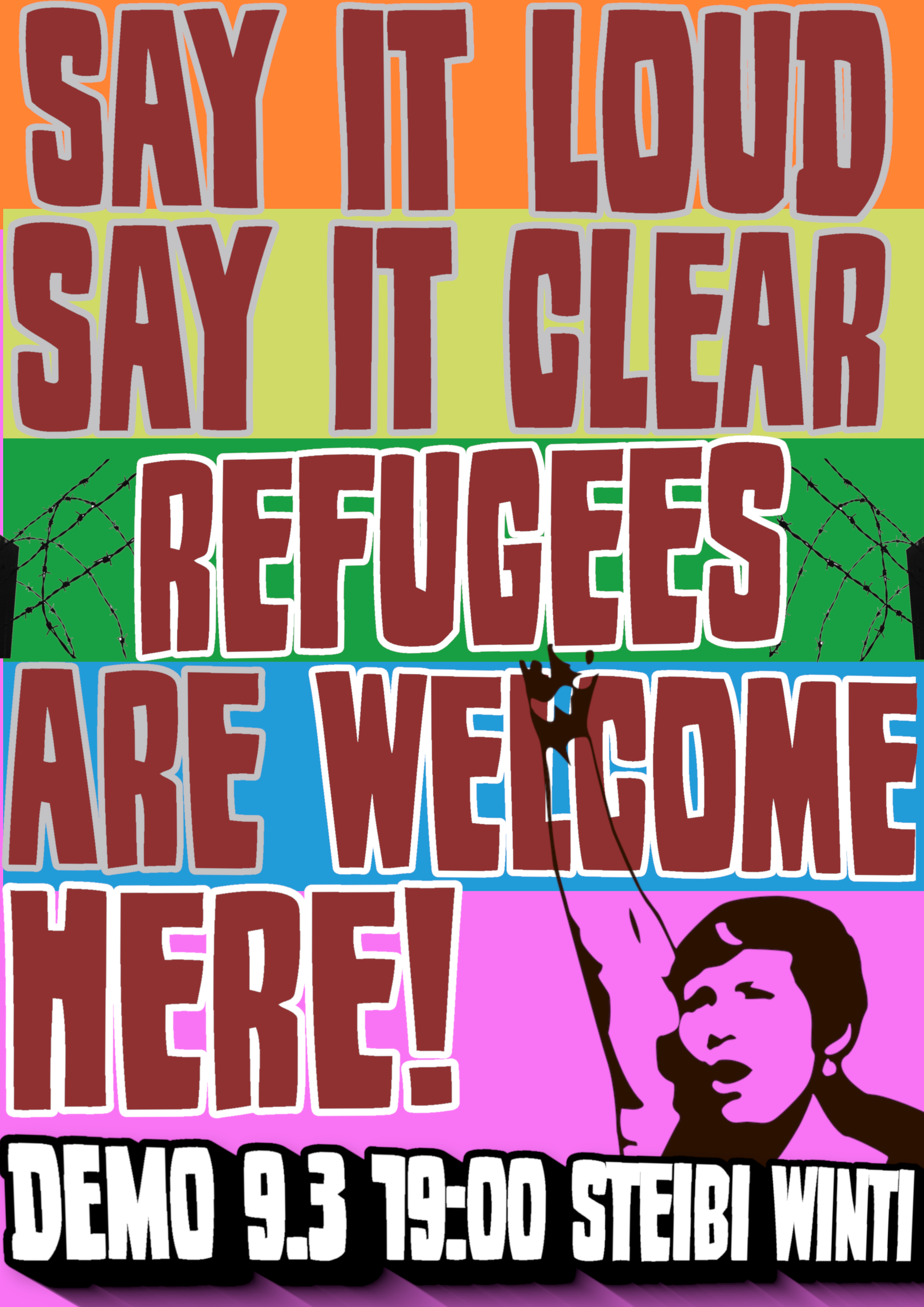 Der Virus heisst Kapitalismus und die Krankheit Faschismus! Gemeinsam Solidarität zeigen.
*ALLE AUF DIE STRASSE!*
Die europäische Antiasylpolitik eskaliert: An der türkisch-griechischen Grenze schiesst die Polizei mit Tränengas und scharfer Munition auf Flüchtende, ein Flüchtender wurde dabei bereits getötet; Griechenland setzt für einen Monat das Asylrecht aus; auf Lesbos greifen Faschist*innen vor den Augen der Polizei Geflüchtete in den Booten an, bedrohen Helfer*innen und attackieren Journalist*innen. Wir schauen dem nicht tatenlos zu: Stehen wir zusammen und bekämpfen wir die Festung Europa!
Wir fordern die sofortige Öffnung der Grenzen & die Aufhebung des Dublin-Systems! Wir fordern die Schweiz auf, Flüchtende direkt aus den Krisengebieten (Türkei, Syrien und Griechenland) aufzunehmen – ganz besonders schutzbedürftige Menschen wie Familien mit Kindern!
Auf zur DEMONSTRATION! Montag, 9.3, 19 Uhr, Steinberggasse, Winterthur.
SAY IT LOUD, SAY IT CLEAR – REFUGEES ARE WELCOME HERE!
weiterleiten & bringt Transparente, Plakate, Flyer!
****English****
The European anti-asylum policy is escalating: At the Turkish-Greek border the police shoots at refugees, one refugee has already been killed; Greece suspends the right of asylum for one month; on Lesbos fascists attack refugees in boats in front of the police, threaten helpers and attack journalists. We do not stand by and watch: Let's stand together and fight the fortress Europe!
We demand the immediate opening of the borders & the abolition of the Dublin system! We call on Switzerland to accept refugees directly from the crisis areas (Turkey, Syria and Greece) – especially vulnerable people such as families with children!
DEMONSTRATION, Monday, 9.3. 7pm, Steinberggasse Winterthur.
SAY IT LOUD, SAY IT CLEAR – REFUGEES ARE WELCOME HERE!
*forward & bring banners, posters, flyers*